Chinese plate from 'granny's wall' sold at auction for £230,000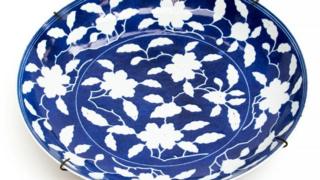 A porcelain plate dating from the 1700s has been sold for £230,000.
The blue and white plate, which had been passed down through a family and hung on a wall before being stored away for safe keeping, had been valued at £60,000 ahead of the auction.
The plate dates from the reign of Chinese Emperor Yongzheng, who was in power from 1723 to 1735.
Hansons Auctioneers, of Etwall in Derbyshire, said it was bought by an overseas phone bidder.
Bought by businessman Alexander Robertson in the early 20th Century, the plate had been valued at £20,000 on the Antiques Roadshow in the 1990s, but remained on display in an ornamental holder for many years.
The three Derbyshire siblings who auctioned the plate wish to remain anonymous.
In a statement they said they "knew it was valuable" but were "totally stunned and ecstatic" by the interest.
"We just thought it was an ordinary plate given to our granny and passed down to us," they said.
"This has really come out of the blue - we might have a large fish and chips tonight."
A replica of the plate is currently on display in the National Museum of China, which is believed to have driven up the price and led to a record 19 phone lines booked by bidders.
Charles Hanson, of Hansons Auctioneers, said it was "one of the most exciting auctions I have ever had the honour of being involved in".
"I am absolutely delighted for the family who have allowed us to sell this wonderful object on their behalf, and also for the buyer who secured it."