No charges over 'snared' Peak District estate badgers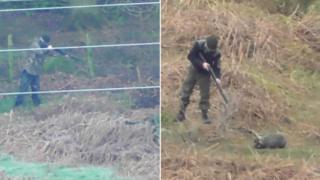 No further action will be taken by police investigating claims protected wildlife was trapped and shot on an estate in the Peak District.
Footage was released in July by the Hunt Investigation Team (HIT) allegedly showing badgers being caught in snares and shot on Moscar Moor Estate.
The Crown Prosecution Service (CPS) decided no charges would be brought.
The Duke and Duchess of Rutland, who run the estate, previously said they were "horrified" by the allegations.
HIT covertly filmed for four weeks on open moorland near Bamford Edge, Derbyshire, and claimed its footage showed protected badgers being deliberately snared on the estate.
They said one of the animals was shot and killed. A second badger ran off into the moorland after a man attempted to shoot off the snare stuck around the animal's neck.
'Bird protection'
Derbyshire Police began an investigation and passed the footage to a dedicated wildlife crime lawyer at the CPS.
The force told the BBC no charges would be brought against anyone and no further action would be taken.
Ian Gregory, a spokesman for Moscar Moor Estate, said: "A badger was released from a legal trap meant for foxes and the police have confirmed no crime was committed.
"Endangered birds like curlew and lapwing are flourishing in grouse moors because gamekeepers do such a good job at protecting them from foxes."
HIT said current legislation around the use of snares was "vague and often unenforced".
However, it added it was pleased to observe that all snare and trap sites had been removed from the estate.