Peak District's low raptor numbers a 'national disgrace'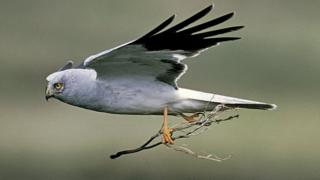 Bird of prey persecution in the uplands of the Peak District is a "national disgrace", a wildlife group has said.
Derbyshire Wildlife Trust said rare hen harriers had not bred there since 2014 and blamed activities related to the driven grouse shooting industry.
The National Trust is looking for a new tenant following a "suspicious" incident involving an armed man on land leased to a shooting firm in 2016.
Pro-shooting groups said the industry had benefited habitats and wildlife.
Tim Birch, from Derbyshire Wildlife Trust, said the Peak District National Park could be a "fantastic place" to watch birds like hen harriers.
However, they are the most "intensively persecuted" birds of prey in the UK and its predation of grouse is a source of conflict on moors used for shooting, according to the RSPB.
The charity said there were just three successful nest attempts in England this year, when potentially there is enough habitat for more than 320 pairs of the birds.
The Moorland Association, which represents grouse shooting estates, said it fully supported efforts to encourage numbers of hen harriers.
In February 2016, footage was recorded of an apparently armed man using a decoy bird to attract a hen harrier on National Trust land.
Derbyshire Police took no further action, but the trust terminated a grouse shooting lease.
---
What is driven grouse shooting?
Grouse shooting takes place in the uplands of the UK between August and December
Driven grouse shooting is so-called because "beaters" drive the game birds towards the guns
As the birds are in flight it gives the shooting party more of a challenge
The industry claims it supports more than 1,500 jobs and invests millions into conservation
However, campaigners claim birds and animals that predate grouse are often targeted
---
Andy Beer, National Trust director in the Midlands, said they needed to have "confidence" in a new tenant, and whether they would be running a driven grouse shooting business on their land near Kinder Scout.
He said: "Certainly very intensive forms of land use are difficult to square with our outcomes, including increasing numbers of birds of prey."
Steve Bloomfield, director of operations at the British Association for Shooting and Conservation, extolled the environmental benefits the industry can bring, but condemned those who have brought the profession into disrepute.
He said: "You can run a shooting estate and you can develop the habitat and provide a surplus for shooting without breaking the law and we totally condemn anybody that persecutes wildlife in any way.
"If it continues then obviously people will continue to question why grouse shooting continues."
The industry claims that in areas where there are gamekeepers looking after grouse, there are also more ground nesting birds of different species.
---
You can see BBC Inside Out East Midlands' report about alleged wildlife persecution in the Peak District in full at 19:30 GMT on BBC One on Monday 2 October or via iPlayer afterwards.
---