Derby man fined for wearing military uniform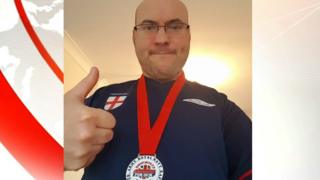 A man has been fined £500 for wearing a military uniform without permission.
Christopher Webster, from Sunny Grove in Derby, wore the outfit while fundraising in Staffordshire for an organisation he ran.
The 43-year-old pleaded guilty to contravening section 2 of the Uniforms Act 1894.
He said he did not mean to upset anyone by wearing the uniform, but the fine was criticised by relatives of veterans and ex-soldiers.
Southern Derbyshire Magistrates' Court heard Webster ran Shoeboxes for Heroes, a non-charitable organisation that sent packages to troops serving abroad, and was confronted about wearing military dress on several occasions.
He failed his basic training in 1993, the court heard.
---
What is the Uniforms Act 1894?
The law makes it illegal for people who are not serving in the military to wear uniforms
Section 2 spells out that it is prohibited to wear "without Her Majesty's permission the uniform of any of those forces, or any dress having the appearance or bearing any of the regimental or other distinctive marks of any such uniform"
People can be fined up to £1,000 or be sent to prison for one month
According to the Crown Prosecution Service, since 2012-13 seven people in England and Wales have appeared before magistrates charged with breaching the Act
---
Sam Matkin, prosecuting, said Webster claimed he was wore the uniform "to show his respect to fallen heroes".
Defending, Makhan Shoka said there was "no malice or intent" and it was to "indicate that he was genuinely involved" in supporting troops.
District Judge Jonathan Taaffe said it was "a very unusual state of affairs", adding the "one purpose" of wearing military regalia was so people made a connection between the wearer and armed service.
'Dead and finished'
"I have a very uneasy feeling about [Webster's] activities and about the way that this organisation has been set up," he said.
Webster was also ordered to pay £85 court costs and a £50 victim surcharge.
Speaking after the hearing, Webster said: "If I've upset a lot of people then I do regret that, but the thing I don't regret is supporting the armed forces."
He added Shoeboxes for Heroes was "dead" and "finished".
Jim Wilde, from Sandbag Times, an internet radio station for veterans and their families, was at the hearing, along with relatives of servicemen and women.
He said he was concerned about the dangers of other people impersonating soldiers.
"£500 and the odds and sods on the end of it won't bother [Webster] - he'll walk out smiling," he said.
"We don't know how many Walter Mittys are about, but some of them can impress themselves on vulnerable people, and that worries me."