Rail worker who died of asbestosis recorded video before death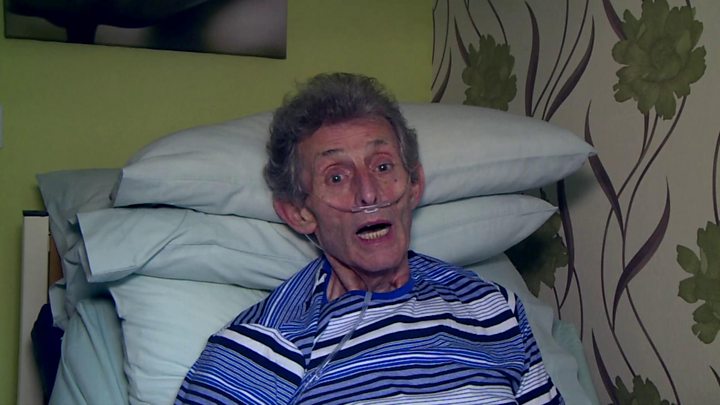 A video of an ex-British Rail worker who died from prolonged exposure to asbestos has been released in a bid to help other potential victims.
Eddie Jowett died in June from asbestosis, an incurable lung disease, after being exposed to the material during the 1950s and 1960s.
In the video interview recorded shortly before his death, he said the illness had caused him to be "bedridden".
The 75-year-old received compensation only weeks before he died.
Mr Jowett, from Derby, had regularly handled asbestos as part of a team making prototype diesel cabs which were lined with the material.
He was not provided with any protection, such as a mask, or warned of the dangers.
During his 70s he began to have breathing difficulties and was diagnosed with asbestosis.
In the video he said: "I was a fit man that could do anything - doing any job that anybody asked me to do.
"Now, I can't do anything. I am now bedridden. I can't go out walking, I can't take my wife out, I can't do anything."
Mr Jowett won compensation in an out-of-court settlement in May after contacting a specialist asbestos solicitor.
John Das, director of Dedicated Accident Solicitors, in Derby, said the firm were working with more victims and families to bring "negligent employers to justice".
British Rail no longer exists, but the Department for Transport (DfT) is now legally responsible for it.
A spokesman for the DfT said: "We are sympathetic to those who have lost family members as a result of asbestos-related disease. We do not comment on individual cases."
---
What is asbestosis ?
Asbestosis is a serious long-term lung condition caused by prolonged exposure to asbestos
The material was once used in buildings for insulation, flooring and roofing but is now banned
The asbestos fibres enter the lungs and can gradually damage them over time
Symptoms of asbestosis include shortness of breath and extreme tiredness
Source: NHS
---