Aida Bliss fall death: Council warned firm about 'danger'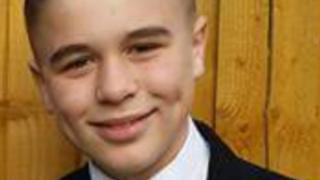 The firm that owns the building where a 12-year-old boy died after falling through the roof was warned months ago that it was "unsafe" and "insecure".
An email sent in June from Derby City Council to the derelict factory owner Aida Bliss advised them it was "regularly accessed" by young people.
Aida Bliss said its "deepest sympathies" were with Adam Johnson's family.
His family paid tribute to him, saying he was "full of life and laughter".
In a statement, his family thanked people for their "love, condolences and support after the tragic death of our darling boy".
They said: "Adam, as all who knew him would say, was a happy, cheeky and caring rogue who was full of life and laughter. This is how we remember him and how we would like everyone to remember him, too.
"When you think of Adam, smile."
A book of condolence has been opened at Allestree Woodlands School, in Derby, where Adam was a pupil.
The factory in Derby, where Adam fell from the roof on Friday, has been empty since Aida closed it in 2004.
The June email from the city council said: "As the land owner, Aida has legal responsibilities to keep the site safe under the Occupiers Liability Acts."
It added the council was "committed to acquiring the site" but added it was not responsible for the property.
'Sadness and heartache'
A Derby City Council spokesman said: "Our thoughts and deepest sympathies go out to Adam's family and friends at this difficult time.
He added that "serious safety concerns" about the site had been raised with the owners on "several occasions", verbally and in writing.
"As the site does not belong to us, the council is not in position to carry out security measures on what is private property," he said.
Aida spokesman Lee Mountney said: "The only statement I would like to make is that our thoughts and deepest sympathies are with the family at this incredibly difficult time for them.
"It would not be appropriate for us to participate in any kind of public media event that could possibly add to the sadness and heartache the family are feeling at this time."
Andrew Meehan from Little Chester Residents Association said the community had raised concerns about the derelict building for years.
"It has been a longstanding problem - children were getting in there and it was a real health and safety danger," he said.
"We have been concerned for a long time that this might happen."
He said the fire brigade had been called "a number of times" to deal with fires at the derelict factory.
Derbyshire Police said Adam had been at the factory with two friends, who had been left "understandably distraught".
Officers appealed for potential witnesses to speak to them "urgently".