Aida Bliss roof-fall death of boy 'accident waiting to happen'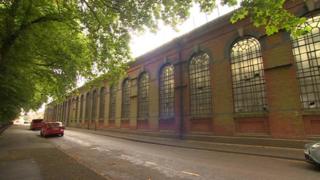 The death of a boy who fell through the roof of a derelict factory was "an accident waiting to happen", people living nearby claim.
Residents say they raised safety concerns about people getting into the Aida Bliss building, in Derby.
The 12-year-old boy was found critically injured there on Friday night and pronounced dead in hospital.
Owners Aida Europe said their "deepest sympathies" were with his family, but did not comment on the safety concerns.
Bruce Wiggins, who lives nearby, said the boy's death was "tragic news".
"My thoughts are with the family and friends of the poor lad at this awful time," he said.
"Unfortunately, this derelict factory has been visited by groups and targeted by vandals for years, with residents raising concerns many times.
"Police and fire departments being called out was all too common an occurrence. Large companies shouldn't be able to leave buildings in such a dangerous and insecure state."
The factory has been empty since Aida Europe closed it in 2004.
Lee Mountney, of the firm, told the BBC: "The only statement I would like to make is that our thoughts and deepest sympathies are with the family at this incredibly difficult time for them.
"It would not be appropriate for us to participate in any kind of public media event that could possibly add to the sadness and heartache the family are feeling at this time."
Another resident, Marie Meehan, said she and her husband saw the boy being taken to hospital just after 19:30 BST.
"We saw the ambulance and the police car and then two fire engines arrived," she said.
"Five minutes later they had got him out on a trolley and took him away."
'It's an adventure'
She said residents "knew it was going to happen some day because they had not secured it properly".
"It was an accident waiting to happen," she added.
"Unfortunately somebody has got killed. We knew something was going to happen in the end, it's bound to.
"But for kids it's an adventure isn't it. Hopefully, now they will do something about it."
Police said the boy had been there with two friends, who had been left "understandably distraught".
Officers have appealed for potential witnesses to speak to them "urgently".
Ch Supt Jim Allen, of Derbyshire Police, said specially trained officers and staff are supporting the boy's family "at this unimaginably difficult time".