Petition demands action on 'Spice-induced' crime in Derby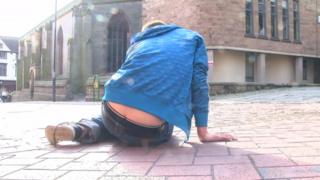 Businesses in Derby have called for action to curb "pick-pocketing, mugging and abusive language" in the city.
More than 100 companies have petitioned the city council demanding "better protection" in the St Peter's Quarter area.
The council says it is aware of the problem and a mobile police station has been installed in the area.
Campaigners say people taking illegal psychoactive drugs such as Spice and Black Mamba are to blame.
'Not safe'
Sally Montague, who runs a hair salon in the neighbourhood, said: "It has been bad and it is just worrying and scary for our team members and clients."
Councillor Asaf Afzal of Derby City Council said: "The council has dedicated significant resource to the Spice problem over the last few months - an issue which has been identified as a 'significant challenge' throughout the UK's major cities."
He also said the city has assigned two dedicated housing outreach workers and four drug outreach and safeguarding workers to patrol the city centre streets.
The petition states: "This is not a nice place to work or visit. Neither does the city feel safe.
"There are daily drug deals happening in full view of everyone on the seating area at the bottom of St Peter's churchyard," the petition said.
"This appears to be the norm and not enough is done about it and therefore this will continue unless the council protects the safety and dignity of the city."
Spice is a synthetic cannabinoid - a type of drug previously known as a "legal high" which the government banned in May 2016.