Derby serial sex attacker Ilija High had 'corrupted fantasies'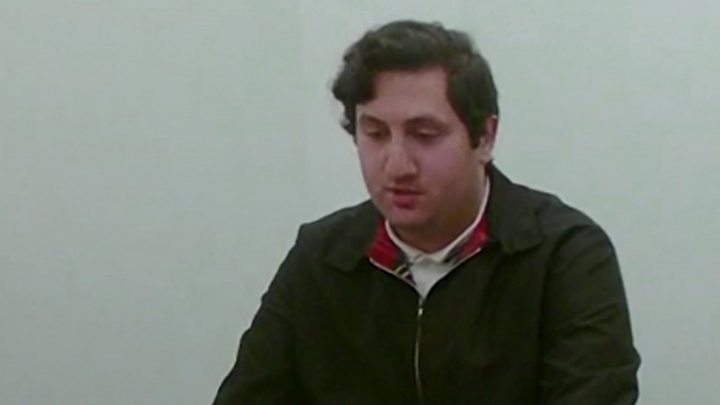 A serial sex attacker who set out on a "savage sexual mission" targeting strangers after watching pornography online has been jailed for 22 years.
"Dangerous" Ilija High raped an 18-year-old woman in Derby three times and sexually assaulted and tried to rape two other victims, aged 14 and 28.
Clive Stockwell, prosecuting, said High had "corrupted fantasies" and a fetish for having sex with strangers.
The 23-year-old, from Chaddesden in Derby, pleaded guilty to 12 offences.
Judge Robert Egbuna said there was "copycat offending" after High watched material depicting "violent, unconsenting sex".
"At the time you committed these offences, you were not suffering from any mental disorder," he said.
"Your predilection for watching depraved material led you to attack in the most frightful and devastating manner.
"You, Mr High, are a dangerous offender."
In a victim impact statement read to Derby Crown Court, the youngest victim said she thought about what happened every day.
"I want him to know the damage he has done," she said in the statement.
"Before I was very confident and always out, sociable and happy. What happened destroyed my confidence.
"I have a real fear of strangers. I hate the dark. I spent over two years looking at everyone, wondering if it was him. I was terrified of being attacked again."
The attacks
27 September 2014 - High sexually assaults and tries to rape a 14-year-old girl on a footpath near West Park nature reserve in the Spondon area of Derby.
7 September 2015 - High rapes an 18-year-old woman three times and tries to rape her a fourth time in Darley Park.
22 December 2015 - High returns to the same footpath in Spondon where he sexually assaults and tries to rape a 28-year-old woman.
13 March 2017 - Police launch a dedicated appeal hotline and publicise this through 40,000 flyers, social media and a media appeal. Someone recognises High and contacts police.
14 March 2017 - Police visit High's home and obtain a DNA sample from him.
15 March 2017 - High hands himself in at a police station, is arrested and confesses to the offences when he is interviewed by police.
In court High pleaded guilty to three counts of rape, three counts of attempted rape, one assault, three counts of making indecent photographs of a child, one count of possessing a prohibited image of a child and one count of possessing extreme pornographic images involving animals.
In mitigation, Martin Elwick QC said: "This case demonstrates the corrosive nature of some online pornography."
He said the offending "emanates from him viewing that sort of material".
The first attack happened almost three years ago but appeals for information were unsuccessful.
Police then linked the two 2015 attacks when they found DNA on a piece of bubble gum that High had put in a bin before attacking the woman in Spondon.
This DNA matched that which was left at the scene of the Darley Park rape, and a review of unsolved cases linked these attacks to the earlier assault of the 14-year-old girl.
Handed himself in
Police then launched a high-profile manhunt in March this year and someone contacted the force the same day after recognising a sketch of him in a police flyer.
Officers visited High's home the following day and obtained a DNA sample from him after they received a tip-off in response to their appeal.
The next morning, High handed himself in at a police station, confessed to the attacks and was arrested.
Supt Tracy Harrison said there had been "a big discussion" about whether to run such a large appeal as it could frighten the public and "bring it all back" for his victims.
She thanked his victims for their help, along with the person who came forward with information.
"I made the appeal on the Monday morning and we got the information late on that Monday directly from the appeal, from a member of the community in Derby," she said.
Supt Harrison said serial "stranger rapists" were "not common at all", and Derby would be "a safer place" with High in prison.
"It's very rare we get these kind of offences and people like Ilija committing these offences," she said.
"I'm absolutely passionate about the city and I just wanted to bring that person to justice."