Plea to church over Bonsall carnival land sale threat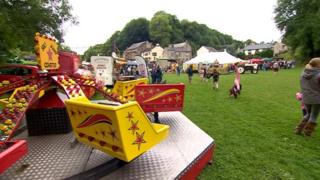 A village carnival could be axed after 90 years if a vital piece of church land is sold, organisers have said.
The week-long event at Bonsall, in Derbyshire, which attracts thousands of visitors, started on Saturday.
The carnival uses a recreation ground and neighbouring car park but the lease on these has now expired.
The Diocese of Derby has said it values the carnival but cannot give guarantees about the future of the land while it carries out a consultation.
Some residents have also started an online petition to secure the land for the town.
Bonsall Parish Council has held it on a 100-year lease but has now been told by the church it can only have it on a six-month basis.
Acting Archdeacon of Chesterfield, Tony Kaunhoven, said: "The diocese has a legal responsibility to look at what it owns.
"Professional advice is that the car park would be suitable for development but we know local people want to see the carnival continue and that absolutely will be fed into the consultation."
Parish council chairman Mark Harris said: "This makes it very difficult to plan ahead which is vital for a week-long event and that threatens the very future of the carnival.
"Clearly it is being considered for... development, which further endangers what is a great celebration of Derbyshire life."