Ashbourne Royal Shrovetide Football exhibition opens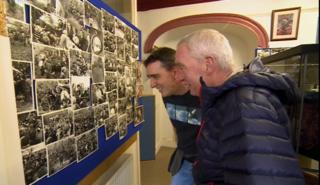 A new exhibition has opened reflecting the history of a centuries-old game of football.
Royal Shrovetide Football, which is played on Shrove Tuesday and Ash Wednesday each year in Derbyshire, dates back to at least 1667.
It features residents of Ashbourne competing to move a ball to posts at either end of the town.
The new exhibition includes balls from games past, photographs, film footage and newspaper clippings.
Shrovetide historian Trilby Shaw said it featured some balls that had not "been seen for generations".
This year's game takes place on 28 February and 1 March.
What is Royal Shrovetide Football?
The game has been played from at least 1667, although the exact origins are unknown because the earliest records were destroyed in a fire
It is played over two days on Shrove Tuesday and Ash Wednesday, starting at 14:00 each day and ending at 22:00
The two teams that play are known as the Up'Ards and the Down'Ards
The game resembles a mass rugby scrum and features rival players competing to move the ball to their allotted end of the town
Action takes place across the whole town, including streets, parks and the river
The actual process of "goaling" a ball requires a player to hit it against the millstone three successive times