Derby Sikh temple murder: Step-grandfather killer guilty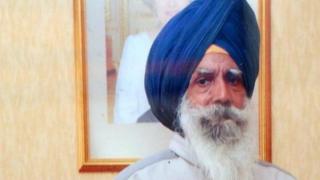 A man has been found guilty of murdering his former step-grandfather who he beat so badly police thought he had been hit by a car.
Sukhraj Atwal, 30, of Derby, had denied killing 74-year-old Satnam Singh in July 2015 outside a Sikh temple.
Nottingham Crown Court heard that the victim was "brutally assaulted" over a long-running family dispute.
He was found with 41 fractures to his ribs, a fractured skull and severe brain damage.
The trial at Nottingham Crown Court heard Mr Atwal repeatedly stamped and jumped on Mr Singh in the early hours of 23 July.
The attack on Coronation Street in Derby was not captured on CCTV, but Mr Atwal's car was seen entering and leaving the area shortly before Mr Singh was found.
Mr Atwal, who chose not to give evidence in court, will be sentenced later.