Canoe in M1 outside lane stops traffic flow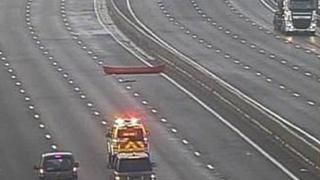 Part of the M1 was brought to a standstill as traffic officers removed a canoe from the outside lane.
Described as "unusual debris" by Highways England, it was found on the southbound carriageway between junctions 30 and 29a in Derbyshire.
Fortunately there were no accidents and it was moved by 09:00 GMT having been there for 30 minutes.
It is thought to have fallen off a car roof and has since been reunited with its owner.
Sightings of the canoe provoked surprise on social media.
Anthony Temperton tweeted: "Anyone lost a canoe?! Last seen overtaking everyone on M1 j30 this morning."
Jeannette Morgan tweeted: "It's not every day you see a canoe in the middle of the M1!"
Glynn M tweeted: "It's not been wet enough to canoe on the fast lane of the M1."