Borrowash Nationwide raid: Derbyshire Police officers hurt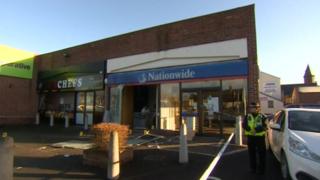 Two police officers have been injured by a gang who drove a Land Rover into the window of a building society trying to get to a cash machine.
Derbyshire Police said they were called to the Nationwide in Borrowash just after 04:00 GMT on Monday.
Officers saw people trying to drive away in an Audi A3 and a Transit van, which then reversed into a police car.
The officers who were in the car were taken to hospital with minor injuries, the police force said.
Updates on this story and more from Derbyshire
The force said one of the officers got out of the car and chased the van driver, but the driver got into the Audi which sped off towards Spondon.
A police spokeswoman said: "We don't believe the gang was successful in breaking into the cash machine."