Ebeneezer Goode prosecuted for drugs and graffiti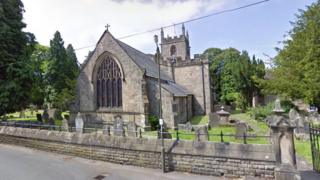 A man known by the name of Ebeneezer Goode has been prosecuted for having drugs and daubing graffiti on a church building.
The 58-year-old wrote "Jesus is 'Muslim'" on the side of St Helen's Church in Darley Dale, Derbyshire.
He was fined £80 after he admitted religiously aggravated criminal damage and being in possession of cannabis.
Ebeneezer Goode is the title of a 1992 number one hit by The Shamen which contains references to drugs.
The Reverend Stephen Monk, rector at St Helen's, said he had heard the song and the defendant had "obviously got issues".
"If he did change his name I could think of a better one," he said.
The defendant committed the offences at about 16:40 GMT on Monday, next to the church's garden of remembrance.
'Unfortunate and offensive'
"It's just a regrettable incident," said Mr Monk.
"This is in no way expressive of Islam and the Muslim faith and is very unfortunate and offensive for those visiting their loved ones in the garden of remembrance."
The defendant, who has no fixed address, appeared at Chesterfield Justice Centre where he gave his name as Ebeneezer Goode.
Police said his real name was Glen Cope, but the court said he had officially changed his name.
He was given a six-month conditional discharge for having the cannabis.
As well as being fined for the criminal damage, he was ordered to pay the church £40 compensation.