Derbyshire house blast: Deaths remains a mystery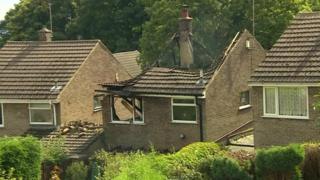 No-one will ever know why a plumber stabbed his wife to death before setting himself and their house on fire, a coroner has said.
The bodies of Shelley Saxton-Cooper, 45, and her husband Simon, 50, were found in the remains of their Derbyshire house after it exploded.
A coroner concluded Mr Saxton-Cooper had taken his own life and that his wife was unlawfully killed.
She was found with 18 stab wounds while her husband died from the blaze.
Assistant coroner James Newman said it was a "definite quandary" trying to work out the events leading up to their deaths in Valley View Road, Riddings, in September 2015.
He said he was satisfied Mr Saxton-Cooper doused the bedroom with petrol before setting it alight and his wife was already dead before the flames took hold.
Mr Newman said: "I do not think we're ever going to know why what happened on 20 September.
"We can go around and around in circles working on potential hypotheses."
The inquest previously heard witnesses reported hearing a loud bang and seeing Mr Saxton-Cooper screaming "like a lion" as he was in a "ball of flames".
The explosion blew out the 13ft (4m) wide window across the street, demolishing the wall of the house.
Firefighters found both bodies in the bedroom, she with a knife still in her chest.
Mr Saxton-Cooper had also suffered a stab wound to his back but it was not fatal.
'Why?'
A two-day hearing at Chesterfield Coroner's Court heard the couple had been together for 25 years and had a happy relationship, but Mr Saxton-Cooper had been treated for depression after he stopped working six years ago.
The coroner also heard he had recently "found God" and the pair had developed an interest in spiritualism and visited mediums.
At one point Mr Saxton-Cooper claimed to have seen "some sort of apparition" in their home, the inquest was told.
Giving evidence, one friend said the plumber had talked of suicide three weeks before their death and said "if they would go, they would go together."
She said she believed that to be a long time in the future and Mr Newman said he could find no evidence of a suicide pact.
Mrs Saxton-Cooper's father, Malcolm Street, told the coroner: "We're still left with the question, why? That's something we're going to have to live with."