Bakewell Winter Wonderland: Show slammed as 'disgusting mud bath'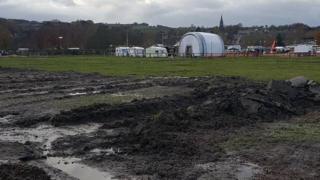 A Christmas winter wonderland has been described as "an absolutely disgusting mud bath".
The show, at Bakewell showground in Derbyshire, runs for three days in November and again from 9-11 December offering crafts, grotto and reindeer.
But comments on social media said the site was in the middle of "a muddy field".
Organisers said "the weather has thrown us a few challenges", but promised the show would continue.
'All hands on deck'
A statement on the event's Facebook page said: "We can only apologise for any inconvenience caused, however we cannot avoid the awful weather we have experienced!"
Shaun Hogg, the event's organiser, said in a statement: "Planned measures were put in place to combat the mud, including removing surface water overnight and laying straw.
"Organisers are sorry to hear some people have not enjoyed the event, but the majority of feedback has been positive."
Jean Sanderson said on Facebook: "It actually wasn't the mud that upset me, it was the lack of stalls, nothing there... only a fair, not what I expected and no Christmas atmosphere at all.
"I feel for what stall holders that did turn up. I was so disappointed."
Ms Sanderson said there were also parking problems and long queues.
But Julie Noble said: "We went last night, it was very muddy [and] not quite what we expected but we all had a good time."
Matthew Goucher defended the show, saying: "It is British weather. They can't help it raining, the organisers can't stop the rain."
Stef Haydon added: "We went prepared for mud and had a great time. It's got plenty to do and see. I think it's what you make of it."
But Sam Cook said on Facebook: "Never in my life I have been to such a disaster. Health and safety is a joke too.... cables everywhere. Absolute joke!"