Tom Webb murder: 'Knife angel' a tribute to Derby man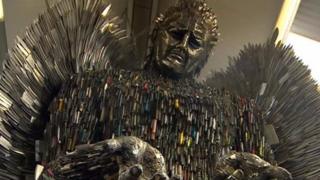 The mother of a man who was stabbed to death has said a sculpture made of 100,000 knives could help stop teenagers carrying weapons.
Tom Webb, 22, was murdered by Haris Mohammed, 16, in Derby, in January following a row sparked by a comment about a young woman being "fit".
The 26ft (8m) "Knife Angel" made from confiscated blades was intended as a tribute to knife crime victims.
Rachel Webb said the statue could inspire young people to "de-tool".
Mrs Webb told BBC 5 live's Afternoon Edition her son's death shook her core belief system that people were "inherently good".
She said: "The murderer put the knife to my son's throat, Tom fell back against the glass wall of a coffee shop and the murderer stepped forward and stabbed him in his heart.
"Then Tom shouted out, 'I've been stabbed' and they all scarpered, everybody ran apart from his two best friends who then phoned an ambulance and held Tom as he was bleeding out.
"Not one of the other people phoned an ambulance which really shocked me."
The "Knife Angel", made by sculptor Alfie Bradley at the British Ironworks Centre in Shropshire, has been created from weapons confiscated or surrendered to police.
It will be unveiled in 2017 and it is hoped it could go on the fourth plinth in London's Trafalgar Square.
Mrs Webb said: "It tells a very emotive story with a really clear message and some people say they don't like it... it makes them feel uncomfortable - I don't like the fact my son was stabbed to death.
"I'd like the people that perhaps do carry knives to see it... and to perhaps feel it so they can make an empowered choice to de-tool, to change their course."