Ilkeston car crush man 'was unloading shopping'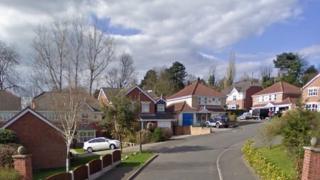 A man was crushed by his own car after it rolled back as he was unloading shopping, an inquest has heard.
Paul Mould only partially applied the handbrake on his Ford Focus when he parked on his driveway at Slade Close in Ilkeston, Derbyshire, on July 1.
It is believed the 54-year-old either tripped or was pulled underneath the car after trying to stop the vehicle from hitting "other property".
A coroner ruled Mr Mould's death was accidental.
Updates on this story and more from Derbyshire
Derby Coroner's Court heard the car was parked on a slope that had a 6.6 degree angle and Mr Mould was unloading shopping from the boot into the garage.
PC Matthew Lacey, from Derbyshire Police, said it was believed Mr Mould ran to the rear of the car after realising the vehicle was "rolling".
'Blood from head'
He came to be under the vehicle by either tripping or being knocked over by the car, he said.
Mr Mould was then dragged "about four metres" before the car came to a complete stop on a neighbour's grass verge.
The officer told the court Mr Mould was trapped under the car by the underside spare wheel.
A statement from delivery driver Craig Webb, who arrived at Slade Close a few minutes after, said he noticed "blood coming from Mr Mould's head" and that he tried to assist him, but was unable to due to "the position of the vehicle".
The court was told there was no CCTV of the incident or any witnesses, nor was there any suspicion of third party involvement.
Mr Mould later died at Queen's Medical Centre from the effects of a crushed chest.