Ripley house fire rescued man dies in hospital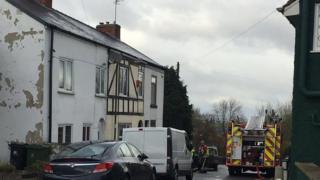 A man who was rescued from a house fire on Sunday morning has died in hospital.
Neighbours saw smoke coming from the house on Lowes Hill in Ripley, Derbyshire, just before 10:30 GMT.
An air ambulance was called and the man, described as elderly, was taken to the Queen's Medical Centre in Nottingham.
Fire officers said the most likely cause of the blaze was coals falling out of an unguarded fire.
Andy Parker, who was renovating a house nearby, said: "There was smoke, the ambulance, fire engines and then the firefighters got the breathing apparatus on and went in. Very dramatic.
"We were told to keep inside as there was a small risk of explosion and a neighbour said it was a fire in the kitchen."
Derbyshire Fire and Rescue Service said it would be offering extra fire safety advice to people living in the area.