'Photographic Banksy' happy with new global role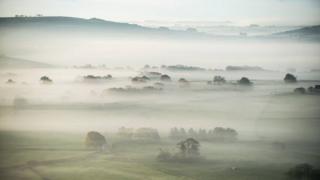 An anonymous cameraman, dubbed 'the photographic Banksy', has said he is confident a new global role will not harm his low-profile lifestyle.
The snapper, known to thousands of fans as Villager Jim, works in the Peak District, where he captures scenes of rural life.
He has now agreed for his images to be used in a tourism campaign to promote the area across the world.
Asked about the extra attention, he said: "It's OK, the dog is the star".
With nearly 150,000 Facebook followers, another 5,000 on Twitter and a further 6,500 on Instagram, Villager Jim already has proven appeal.
Read about this and more stories from Derbyshire
"It wasn't a surprise when the tourist board ambassador role came up. In fact, it was more the achievement of an ambition," he said.
"I am passionate about the Peak District and so are they. It's a natural partnership."
Born out of a hobby, which gained importance after a serious illness, Village Jim said one event made it clear there was a demand for his images.
"I decided to try and sell some greetings cards and I knocked on some doors. No-one said no.
"Then a card company called me up to say they wanted to sell them and it has built since then," he said.
While taking in anything he see during his walks, Villager Jim's signature is pictures of his Labradors, Dilly and Barnaby.
"The images do the talking for me and Barnaby is more famous than me and that's fine.
"We are going to feature more of his adventures in the future, helping to promote the Peak District."
Marketing Peak District & Derbyshire said Villager Jim would feature, with other ambassadors, in digital guides targeting overseas markets in Germany, the Netherlands and the USA.