'Lonely' cow adopted by Long Eaton dog walker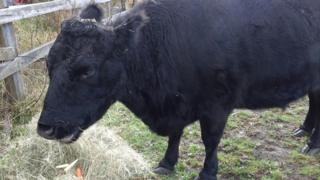 A woman is hoping to "moo-ve" the public and beef up her fundraising campaign for the pet cow she saved from the slaughterhouse.
Trisha Boyko "fell in love" with Jean Jeanie - an eight-year-old Dexter cow - last summer in Long Eaton, Derbyshire, while walking her dog.
Ms Boyko adopted Jean from her previous owner and moved the cow to a farm in Draycott.
She is aiming to raise enough for a year's rent on Jean's current field.
Updates on this story and more from Derbyshire
Ms Boyko, from Long Eaton - who also has three cats - started to visit Jean every day with leftover vegetables, explaining the cow was often on its own in its former field.
The 52-year-old made a Facebook page for Jean, short for the cow's registered name of Mooridge Jeanie, which attracted interest from people who began donating vegetables and hay.
"I felt so sorry for her when she was on her own," Ms Boyko said. "I couldn't wait to get down there to see her to see if she was alright.
"She lit my days up and I'd like to think I cheered her up, especially because they're herd animals."
After the cow's move, and hearing rumours Jean was due for market, Ms Boyko persuaded the animal's former owner to let her have Jean.
Ms Boyko said she registered herself as a keeper of livestock, contacted the Department for Environment, Food & Rural Affairs (Defra) and the British Cattle Movement Service and vaccinated Jean before the cow was transported to Draycott.
'The people's cow'
The part-time administrator said another couple had pledged to pay for half of Jean's £30 weekly rent and upkeep, but later said they could not afford the costs, leaving Ms Boyko "devastated".
Ms Boyko has raised nearly £600 of her initial £1,500 target.
"She is the people's cow," Ms Boyko said. "She had a lot of friends when she was in her original field. Dog walkers used to walk by and feed her so people know of her.
"She's got a lovely character, she's really gentle, she's lovely."