Belper hit by fresh closure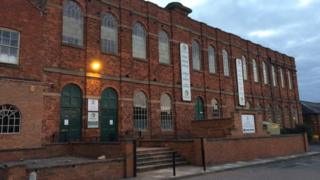 A Derbyshire mill town that was once a thriving industrial centre has been hit by the loss of a third employer in less than a year.
Belper discount retailer De Bradelei Stores is also closing its Nottingham and Dover outlets with the loss of an estimated 100 jobs in total.
"Clearly the company was in financial trouble, but it was without warning," a borough councillor said.
The firm operated a retail outlet on Chapel Street in the town.
'Absolutely devastated'
A statement on the company's website said: "We would like to offer our sincerest apologies and thank our wonderful customers and staff for their support."
The other closures in the town include hosiery firm Courtaulds, which went in to administration in May with the loss of 350 jobs, and Abru Ladders, which moved 100 manufacturing jobs to Essex earlier this year.
Councillor Maurice Neville, of Amber Valley Borough Council, said: "It was reminiscent of what happened to Courtaulds - no warning, the workers were just told 'You won't have a job the next day'."
He said residents told him they were "astonished it had shut overnight".
The town, in Derbyshire's Amber Valley, was famous for its cotton mills, including North Mill. The mill was built by Jedediah Strutt, one of the fathers of the Industrial Revolution, in the 18th Century.
Belper North Mill, built in the 1830s and also known as Strutt's North Mill, was given Unesco World Heritage Status in 2001.