Matlock protest at hospital bed axe plan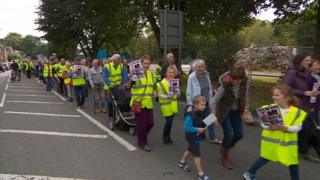 Protesters have driven a bed along a main road as part of a campaign to save a hospital ward.
More than 200 people marched through Matlock and on the A6 on Saturday over plans to axe in-patient beds at Whitworth hospital in Darley Dale.
The bed was put on a lorry and handed to managers at the Derbyshire hospital, along with an 8,000 signature petition.
The NHS body behind the plans said people could often be better treated in their own homes.
Dr Ben Milton, chair of NHS North Derbyshire Clinical Commissioning Group and a GP in Darley Dale, said: "My patients often tell me that they don't want to go into hospital and doctors now know that patients do better if they can avoid unnecessary hospital stays, which can lead to some older people never regaining their independence.
"Medicine has changed for the better over the years. This means much of the care traditionally provided in community hospitals is just as safe to give at home where many patients prefer to be."
But secretary of Matlock Hospitals League of Friends, Pam Wildgoose, said many people did not want to travel to Chesterfield for care and valued the Whitworth.
"It was a wonderful turnout and we completely filled the lawn in front of the hospital, but the 8,000-odd who have signed the petition are also important.
"A lot of the population in this rural area is elderly, so as much as they would have liked to have come on the walk, they couldn't," she said.
Both Derbyshire Council and Derbyshire Dales District councils have expressed concerns about the plans.
A consultation on the plans closes on Wednesday 5 October.