Derbyshire beauty spot vandalism prompts appeal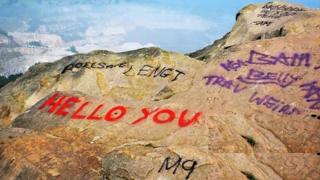 Vandals have sprayed graffiti and "offensive language" on rocks at a beauty spot near the Peak District.
Officers said they were called to Black Rocks, near Cromford, by a member of the public during last week.
At least a dozen tags and slogans had been painted onto the stones close to the High Peak Trail, which are popular for their views.
Derbyshire Police said there was an ongoing issue with vandalism in the area and appealed for information.
The incident has provoked a strong reaction on social media, with the force's post being shared and commented on hundreds of times.
Brenda Brownlow from Nottingham said: "Disgusting.. all those years those rocks have been a landmark and a beauty spot and then ya get some mindless imbeciles with nowt better to do...it makes my blood boil".