Food ban after mouse droppings found at Derby restaurant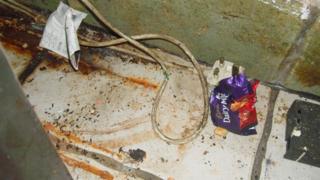 A man has been banned from preparing food for the public after the discovery of mouse droppings, filthy conditions and mouldy yoghurt at his takeaway.
Balvir Singh, who runs Punjabi Grill, Karahi & Fry, in Normanton Road, Derby, was given four six-month suspended sentences at Derby Crown Court.
He was convicted in 2014 of similar offences but has been given the ban following a recent inspection.
Derby City Council said Singh had a "blatant disregard for food safety".
He pleaded guilty to four counts of failing to comply with regulations to ensure that food premises are in safe and good repair.
Helen Casedine-Smith, from the authority's food and safety team, said it was a "shocking case".
She said: "When we take evidence to court a prosecution is enough to deter from offending again but obviously this wasn't the case in this situation."
In September 2015, inspectors found mouse droppings on food preparation surfaces, under a toaster, and in open bags of flour.
They also found debris, dirt and grease around the kitchen and spider webs in the storage areas.
There was also an open drain found and holes in doors and windows which allowed rodents into the building.
An emergency prohibition notice closed the restaurant - which was recently known as Indian Spicy Food - but was lifted in October following another inspection.
However, a further inspection a year on showed standards had slipped again.
The defence argued that Singh had a lot of issues in his personal life and could not afford to employ people to help him.
The court heard he been given a previous fine which he had paid in full, but had kept the restaurant open for longer hours to pay the bills which led to standards slipping.
Singh was also ordered to pay £4,000 in costs.