Semen sniffing Derbyshire Police dog trained in sex cases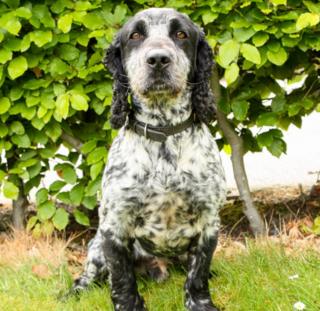 A dog believed to be the only one trained in the UK to find semen at a crime scene has been helping police investigate sexual offences.
Billie and his handler have completed 18 searches since he was first deployed in March, Derbyshire Police said.
The force said a man was arrested after semen found by the dog was forensically analysed and proved to be a DNA match.
Supt Dick Hargreaves said Billie was an "asset" and hoped his skills would lead to more convictions.
'Semen training'
Billie is able to detect stains on a range of surfaces and has uncovered marks more than a year old, according to the police.
Mr Hargreaves said the three-year-old cocker spaniel underwent "intensive training".
"He is a real asset and we share his expertise with other forces that need him," he said.
"He's already been used in numerous investigations and has found evidence that has resulted in crime scene investigators identifying DNA profiles."
A Derbyshire Police spokeswoman said Billie was the only dog in the UK "specifically trained" just to detect semen.
She said some forces claimed they had dogs who may be able to detect the fluid alongside other substances, such as blood.