MP Heather Wheeler sparks Twitter backlash with British Empire post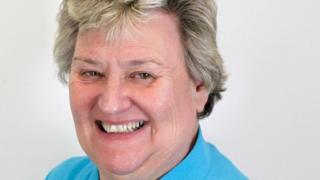 An MP has sparked a backlash after a "deeply offensive" tweet suggesting the Olympics were won by the British Empire.
Conservative Heather Wheeler shared a graphic with a medals table split between "Rest of World", "British Empire" and "EU post-Brexit".
After congratulating Team GB, she then wrote: "Now for the Trade Agreements."
The South Derbyshire MP said the tweet was a joke in response to another total which put the EU medals together.
But the post - entitled "Empire Goes For Gold" - has been labelled "deeply offensive to so many people and their ancestors" by Labour MP for Tottenham David Lammy, while others have called it "insensitive and ignorant".
Ms Wheeler, who campaigned for Britain to leave the European Union, told the BBC it was a "tongue-in-cheek reply" which she felt was clear, adding: "My tweet says congratulations to Team GB and the Commonwealth".
When queried about the mention of the British Empire, she said: "It was clearly a joke."
Conservative MEP Daniel Hannan, who also campaigned for Brexit, tweeted in support of Ms Wheeler, saying: "This is Twitter! Any light-hearted remark will spark cretinous faux-outrage!"
The USA topped the Rio Olympics table with 46 gold medals and 121 in total, with Team GB finishing in second.