Bloodstock Festival sex attacker fended off with a torch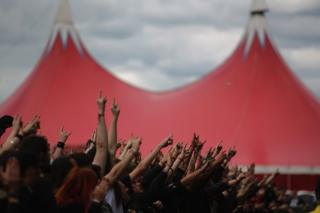 A woman fended off a sex attacker at a heavy metal music festival by hitting him with a torch, police said.
The 28-year-old was in her tent at the Bloodstock Festival in Catton Park, Derbyshire, when the man came in and assaulted her.
The woman hit him on the hand with a torch and he fled.
Derbyshire police said the attacker, who was in his late 20s, may have complained about pain in his hand following the attack.
He was described as white with a tanned complexion with uneven teeth and acne scars.
Det Sgt Jim Shinfield said: "This was an isolated incident at what was otherwise an uneventful festival."