Derbyshire woman turned into a 'human fireball'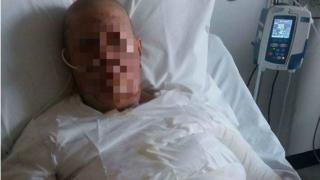 A woman remains in intensive care three weeks after she was turned into a "human fireball" in an accident with a patio heater.
Eileen, who did not want to give her full name, was caught in the blast when her partner added bio-ethanol to their heater at her Derbyshire home.
She has suffered severe burning to her upper body and face and required nine hours of surgery.
Her son Kevin has demanded that the heaters meet stricter safety standards.
He said his mother's partner added bio-ethanol - similar to methylated spirits - to the heater when he believed it had gone out.
"He tipped some more bio-ethanol into the chamber and it exploded - turned her into a human fireball.
"She's lying on the floor and her partner's trying to put her out with water from a hosepipe. He was also trying to damp her down with his arms which of course set her partner's arms on fire as well. It was pretty horrific."
Kevin, who lives in Shardlow, near Derby, visited his mother in the days following the accident and said it was almost too much to bear.
"I cried and I cried because if you've ever seen a human being basically looking like a burnt chicken in front of you - that's all I can describe it as."
Kevin thinks bio-ethanol heaters should have better safety guards and that the flammable liquid should be subject to the same storage restrictions as petrol.
Dave Cross, from Derbyshire Fire and Rescue Service, insisted there was no need to ban the heaters but stressed the need to read and follow the instructions.
"The product itself is safe but you must read and follow the manufacturer's instructions. You must not re-fill it while there's a flame still lit and you must give it time to cool down after the flame has gone out - most manufacturers say 20 to 30 minutes."