Tom Webb stabbing: Teenager sentenced for 'fit girl row' murder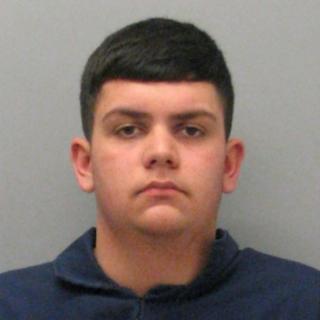 A boy of 16 who stabbed a man to death in a Derby street over a comment about a young woman being "fit" has been sentenced to 14 years detention.
Haris Mohammed attacked Tom Webb, 22, because "he wanted confrontation and wanted to demonstrate his power", the court was told.
Mr Webb died shortly after being stabbed in the heart on 19 January.
His mother Rachel Webb said in an impact statement that her pain was "indescribable".
Mrs Webb said she was unable to forgive Mohammed because he had not shown any genuine remorse at an early stage.
The trial at Nottingham Crown Court heard Mr Webb had been with two friends in the city centre, buying food and drink from a Tesco store in St Peter's Street.
After they left Tesco, one of the group made the remark about a young woman who was walking past them being "fit", meaning attractive.
One of Mohammed's friends overheard the comment and told him about it.
'Senseless and tragic'
He then used a butterfly knife with a blade about seven centimetres long to stab Mr Webb.
Det Ch Insp Dave Cox, who led the investigation said: "I hope that this sentence sends a strong message to anyone who is thinking of carrying a knife.
"Carrying a knife can have serious consequences and this is proof of that.
"A young man lost his life that night and another youngster will now be spending at least 14 years behind bars."
Karen Thompson, deputy chief crown prosecutor, said: "Tom Webb's murder was a completely senseless and tragic waste of a young life.
"There was no need for Haris Mohammed to be carrying a knife, there was no need for any kind of confrontation, and there was certainly no need to use the knife on Mr Webb."
"My heartfelt sympathies are with Tom's family and friends."