'Elvis Presley hedge' to go on display in Milford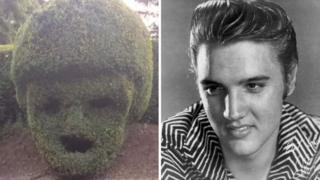 This unusual topiary might leave you All Shook Up - but only if someone told you it is meant to be Elvis Presley.
David Wright was a big fan of The King and fashioned the shrub in his likeness at his Derbyshire home 20 years ago.
Wife Bridget has attempted to maintain the garden feature since her husband's death, but admitted it now bears little resemblance to the rock star.
Her garden, in Milford, near Derby, is open to the public later to raise money for the Alzheimer's Society.
Mrs Wright said people regularly pass by and point at the bush but have to ask who the face is meant to be.
"Over the years I suppose he has aged and doesn't look much like Elvis," she added.
Mrs Wright said her husband liked to do "quirky things" and keeping the bush meant his legacy lived on.
He died four years ago, 14 years after he was diagnosed with Alzheimer's.