Hathersage Lido celebrates 80th birthday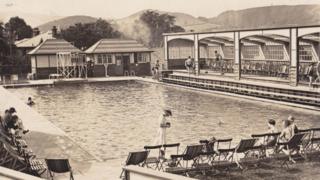 An outdoor pool built by a razor blade magnate and used by Sheffield United players for pre-season training in the 1930s has turned 80.
Hathersage Lido in Derbyshire's Peak District opened in July 1936 as part of a sports complex.
The swimming pool was built after razor blade manufacturer George Herbert Lawrence made a "generous donation".
Anniversary celebrations will include a brass band playing 1930s music on the original bandstand.
Visitors are being encouraged to attend the celebrations in 1930s dress and view a photographic history of the pool.
The official opening in 1936 saw more than 400 people watch a water polo match and a police swimming demonstration.
Thousands of swimmers, sometimes braving sub zero temperatures in winter, still use the pool.
---
'The fairy godfather'
Hathersage Swimming Pool was only built following a donation from local businessman George Herbert Lawrence
He made his fortune from the mass production of safety razors
Lawrence was nicknamed the "the fairy godfather of Hathersage" following his donations to projects in the village
He donated £5,000 towards the building of a Methodist Chapel
His legacy was honoured with a blue plaque in the village in 2013.
---
Following the outbreak of World War Two, the pool was requisitioned by the government, but it was handed back for reopening in April 1940.
Subsequent decades saw the pool beset with funding problems until a group of volunteers came forward to help run it.
Council funding now means the pool's future is secure.
"It has definitely got a more comfortable future now," pool manager Mike Wellington said.
"It is a huge part of the community and it has taught generations of young people how to swim.
"If it was to ever close I don't think the village would be the same again."
The pool has also undergone significant change since it was opened.
The diving boards no longer exist, the showers have warm water and the pool is heated by a gas rather than a coke boiler.
The pool hosted open air cinema for the first time last year.