Derby council sues over collapsing Alvaston cottage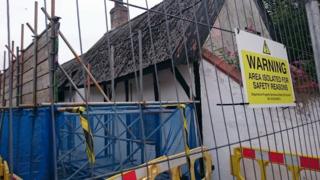 A council has begun legal action in a long-running saga over a collapsing listed cottage after spending about £60,000 on repairs.
Structural engineers say the house on Church Street, in Alvaston, Derbyshire, is in "real danger of collapse".
The property, which is not owned by the council, has been supported by scaffolding for 15 months.
Derby City Council said it was taking action to force the owner to carry out work to the now "dangerous" property.
The authority said it was currently spending £4,500 a month to keep the building safe.
The timber-framed farmhouse dates from the late 16th or early 17th Century.
A spokesman said: "The council is taking action, under the Building Act 1984, to enforce the need to stabilise the roof and supporting walls to prevent a catastrophic collapse of the building, which has been professionally/technically assessed by independent structural engineers as being unsafe and dangerous.
"The primary responsibility for repairs rests with the owner.
"Acting in its regulatory capacity, the council's first aim has been to secure voluntary action by the owner to effect the necessary works."
The owner has not responded to a request from the BBC for comment.