Car crashes into front of Swadlincote bungalow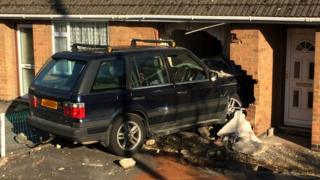 A car ploughed into the front of a bungalow after colliding with another vehicle and coming off the road.
It happened on Hearthcote Road in Swadlincote, Derbyshire, just before 02:00 BST. The Range Rover ended up embedded in the property.
Derbyshire Police said no one was hurt but two people had to leave their home and have not been able to return due to fears over structural damage.
An investigation has begun and police have appealed for witnesses.
BBc reporter Martyn Williams, at the crash scene, said: "Part of the front wall has been completely demolished with bits of brick and wall everywhere.
"One part of the wall has moved at least four or five metres from where it originally was."
The road was closed for about an hour and no arrests were made.
Police said one driver suffered minor injuries but did not need to go to hospital.