Derby County striker Nick Blackman fined over tax error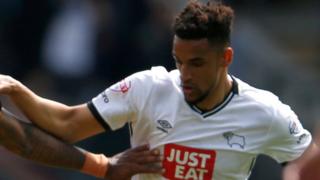 Derby County striker Nick Blackman has been fined for understating his income on his tax return.
Mr Blackman's former accountants did not declare £45,000 of his income during the 2012-2013 tax year, when he played for three clubs.
The 26-year-old, who signed for Derby in January, had to pay a total of almost £9,000 for the "glaring error".
His legal team said he is a "footballer, not a financial wizard".
Mr Blackman appealed the initial fine, but it was upheld by a judge.
Blackburn Rovers
The striker's representatives said his then accountants forgot to declare his time at Blackburn Rovers on his tax return for the period.
They said he would probably not have understood the return if he read it.
In his challenge to the fine, the player said he had every right to expect that his accountants would prepare his return correctly.
Mr Blackman was told to pay additional tax of £7,612, but was also handed a penalty of £1,141.97 by HMRC.
'Milestone events'
Dismissing his appeal, Judge Christopher McNall emphasised no dishonesty had ever been alleged against Mr Blackman and it was "an honest, but careless, mistake".
However, Judge McNall said Mr Blackman had failed to take "reasonable care to avoid the inaccuracy" as it was his duty to check the return before it was sent.
"Transfers are milestone events in the lives and careers of professional footballers," he said.
"Mr Blackman cannot possibly have forgotten, or not known, when authorising the filing of his tax return in April 2014 that he had been transferred twice, and hence had been employed by three clubs, between April 2012 and April 2013.
"Mr Blackman would have been expected to identify the error.
"It was an entirely obvious one to anyone reading the tax return with sufficient care."
Mr Blackman's appeal against the "inaccuracy penalty" was dismissed.