Tom Webb stabbing: Friend says his 'fit' remark led to death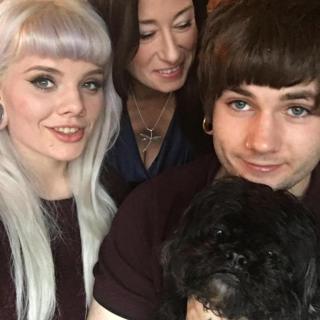 A man has told a trial how his comment about a young woman in the street being "fit" led to his best friend being stabbed to death.
Zayell Gillespie said a group of young people became "irate and heated" following the remark - suggesting the woman was attractive - and one of them attacked his best friend Tom Webb.
A 16-year-old boy is on trial for murder, which he denies.
The boy's defence barrister said it was Mr Webb who made the comment.
The 22-year-old died shortly after being stabbed in the heart in Derby city centre on 19 January.
Giving evidence, Mr Gillespie told Nottingham Crown Court that he and Mr Webb both drank about seven pints of beer that day.
They and another friend, Alex Emerson-Cox, then went to Tesco to buy a bottle of vodka.
After leaving the supermarket, Mr Gillespie claims he told his friends a woman in the street was "fit", but the comment was not directed at the woman herself.
It was overheard by a group of young people who then confronted them, he said, and he himself was punched, falling to his knees.
When he looked over at his friends he remembered thinking they were going to be OK and they were going to walk away from the confrontation, he said.
Mr Webb was stabbed at about 20:20 GMT and was pronounced dead 50 minutes later.
Mr Gillespie said he never saw the knife, and did not see his friend being stabbed.
During cross-examination, defence barrister Peter Joyce QC pulled out police statements made at the time by Mr Gillespie and Mr Emerson-Cox.
Both of the statements said that Mr Webb had been the one to call the girl "fit".
Mr Joyce asked whether it was in fact Mr Webb who said this, and he replied: "I don't know."
The trial continues.