Police probe swan and cygnet 'hit and run' deaths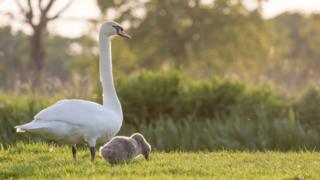 A swan and cygnet were killed by a vehicle reportedly driven deliberately at the birds in a hit and run attack.
People in the Derbyshire village of Wingerworth phoned police on Monday to report the swans had been hit by either a car or van in Nethermoor Road.
Witnesses alleged the vehicle had been driven at the birds on purpose, the Derbyshire Times reported.
The person or people responsible could be prosecuted under the Wildlife and Countryside Act 1981.
Wingerworth resident Kerry Cunningham told the Derbyshire Times the village's swan family "has been ripped apart".
"As a village we have always kept an eye on them - and now this," she said.
Just one adult swan and three cygnets are now thought to live in Wingerworth and people are being urged to protect them.
Police are investigating the incident, which happened at about 08:00 BST, and have appealed for information.
Do swans really belong to the Queen?
The Crown claimed ownership of all the mute swans in England and Wales in the 12th Century, primarily to stop commoners depriving the royals of a favourite banqueting dish
The Queen still exercises her ownership of swans on certain stretches of the River Thames and its tributaries and an annual count of these swans known as Swan Upping takes place every summer
As native wild birds, swans also enjoy statutory protection under the Wildlife and Countryside Act 1981 and it is an offence to intentionally injure, take or kill a wild swan