Tom Webb 'murdered after friend said young woman was fit'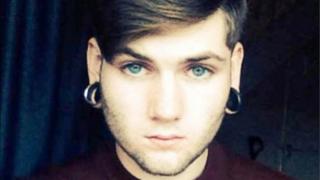 A teenager stabbed an "entirely innocent" man to death after one of the victim's friends described a young woman as "fit", a court has heard.
Jurors were told the 16-year-old attacked Tom Webb, 22, in a bid to "demonstrate his power" to his friends.
After a chase, the boy knifed Mr Webb in the chest when he "called his bluff and suggested he wouldn't stab him", the prosecution said.
The boy, who cannot be named due to his age, denies murdering Mr Webb.
'Aura of menace'
Michael Auty QC, prosecuting, said the defendant had "wanted confrontation" when he launched the pursuit in Derby city centre.
"For no reason at all, save to exude an aura of menace and power to those meekly trailing along in his wake, he must, at the very least, have had the intention to cause some really serious bodily harm.
"That is murder. It is not necessary to prove an intention to kill," he said.
The trial at Nottingham Crown Court heard Mr Webb had been with two friends in the city centre, buying food and drink from Tesco in St Peter's Street.
After they left Tesco, one of his friends made the remark about a young woman walking past being "fit", meaning attractive, the court heard.
A friend of the defendant overheard the comment and informed the defendant, who decided to pursue Mr Webb's group, Mr Auty said.
Mr Webb then became aware of what Mr Auty described as "an angry mob".
The defendant "set about provoking a fight", but Mr Webb "said expressly that he had no wish to fight 15-year-olds, asking what they were going to do".
Mr Auty said the defendant replied: "What am I going to do? You don't know who I am?"
He then drew a knife from a bag hanging around his neck.
Tom Webb is then said to have responded: "You're not going to use that; you're not going to stab anyone."
'He's stabbed me'
The boy held it to Mr Webb's throat area, Mr Auty said, but Mr Webb pushed the boy back.
Other members of the "angry mob" then instigated fighting, Mr Auty said, and Mr Webb was stabbed in the chest amid this.
"Suddenly, one of the women screamed and Tom Webb fell to the ground holding his lower chest area and saying 'He's stabbed me'," said Mr Auty.
Mr Webb was stabbed at about 20:20 GMT on 19 January and was pronounced dead 50 minutes later.
"He chose to stab Tom Webb when he had no need to," said Mr Auty.
"What he couldn't take was losing face; better to stab Tom Webb than walk away."
The trial continues.