Children 'threatened' during Dronfield armed raid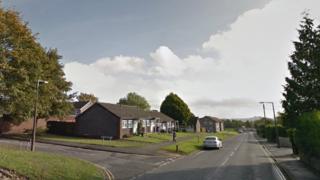 Three men have been charged over a robbery in which three children were allegedly threatened with a gun.
The masked men burst into a house in Dronfield, Derbyshire, in March 2015 after knocking out a 46-year-old man.
Two women and three children - aged seven, 11 and 13 - were threatened and the women was believed to have been tied up.
Cash and jewellery were stolen from the house during the robbery, which happened on Stubley Lane on 19 March.
Shayne West, 34, of Vikinglea Drive, Sheffield; William John Proctor, 36, of Magpie Grove, Sheffield; and Luke Bonsall, 36, of Sandygate Park, Sheffield, have been charged with conspiracy to commit robbery and conspiracy to possess a firearm with intent.
They are due to appear before Chesterfield magistrates on 15 July.