Doctor Who: Rare 1966 Dalek sells for 'record' £38K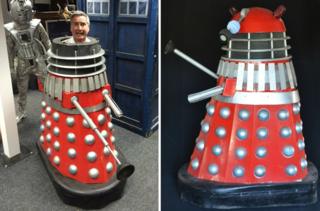 A 1966 Dalek has sold for about £38,000 to a UK bidder after attracting bids from around the world in a film and TV memorabilia auction.
The 67 items being sold all belonged to one man, whose wife said he needed to get rid of them so they could downsize.
Auctioneer James Lewis said about 30 people "fiercely contested" the prop and believes "it's a record for the highest price ever sold".
The huge collection of items sold for almost £90,000 in total.
Updates on this story and more from Derbyshire
A man from London bought the Dalek, beating bids from America, Australia, New Zealand and Belgium.
Mr Lewis said: "£38,500 is an incredible price - more than double what was expected.
"It's beaten the record set in 2005, which stood at just over £36,000.
"I think the Dalek would have been back in use exterminating its owner if he hadn't agreed to sell his collection."
The lots included a Cyberman from the 19th season that sold for £2,000 and a Tardis from a stage show that fetched £1,000.
Prior to the auction, the seller's wife said: "There's no way that we can accommodate all of these things. The last thing I want is a Dalek in the bedroom.
"Everything has to go. We don't want any of it back.
"I'm locking my husband in a straitjacket in the garden shed so he can't bid on any of it again."
The Dalek featured in the 1966 film Daleks - Invasion Earth: 2150 AD and was one of three given away by Sugar Puffs in a competition to tie in with the release of the film
It was originally silver but has been repainted red
In 1992 it made an appearance on the BBC show Summer Scene, where it chased a young Rob Brydon around the Ebbw Vale Garden Festival of Wales
The collection also included oversized props from The Borrowers and Mr Cadbury's Parrot.
The collector, from Hertfordshire, amassed the items over 25 years.
He did not attend the auction, which took place at Bamfords in Derby.