Bernie Clifton and ostrich to appear at Kerrang! Awards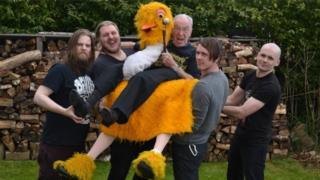 Ostrich-riding entertainer Bernie Clifton is to appear at the Kerrang! Awards after a blunder saw death metal songs listed on the back of his CD.
The 80-year-old entertainer said he was "absolutely devastated" when tracks by the band Abhorrent Decimation were mistakenly printed on his album cover.
But he has since invited the band to his home in Derbyshire, and said they were "absolutely charming".
He is due to present an award at the annual music awards show later.
"I'm coping with the strain of being a rock star," he said.
"I'm the rock legend you've all been waiting for."
Updates on this story and more from Derbyshire
He said he was a bit frightened but looking forward to it.
"I think I'm at an age now where you've just got to say to yourself 'just go for it'," he said.
He intends to take Oswald, his ostrich companion, as an extra guest.
"I think if I went without him they wouldn't let me in."
Bernie Clifton's Miasmic Mutation
Bernie Clifton is best known as a comedian but he made an album of covers after auditioning on BBC One's The Voice
His CD, called The Impossible Dream, includes tracks such as Wind Beneath My Wings, Danny Boy and Lady in Red
However, the reverse of the CD case was instead printed with the track listing for the Miasmic Mutation album, with titles including Odious, Eternal Repulsion and Glaciate the Servants
The mistake happened because the CDs have similar catalogue numbers
| Tracks from Bernie Clifton's The Impossible Dream album | Tracks from Abhorrent Decimation's Miasmic Mutation album |
| --- | --- |
| Wind Beneath My Wings | Eternal Repulsion |
| Lady in Red | Souls of Sedation |
| The Sunshine of Your Smile | Echoes of the Vortex |
| Count Your Blessings | Odious |
Abhorrent Decimation have also been invited to the heavy metal awards ceremony, which is being held at the Troxy in London.
The band previously went to Mr Clifton's home, near Chesterfield, for tea and bacon sandwiches.
"I must confess I was a bit frightened," he said.
"I thought 'What are they going to do? Are they going to start looking for chickens to bite their heads off them?
"They all piled out of the car, these great big bearded monsters, but they were absolutely charming."
Mr Clifton and the band signed copies of the CDs, which will be auctioned for charity in future.
"Of course I've listened to it. I've researched it, I took my Valium," he said.
"I sort of listened to it from behind the sofa and I thought 'This is different, isn't it?'"
He said he "could be converted" to the music and has not ruled out a musical collaboration with the band.
"They do say reinvention is a must in our business," he said. "I like to be open minded."