Derby waste firm told to clean up after fly infestation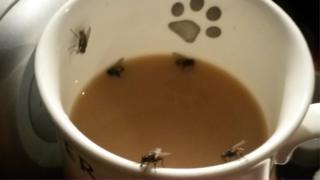 A waste treatment facility has been banned from accepting any more refuse after locals were besieged by a "plague" of flies.
Some residents in the Slack Lane area of Derby said they could not cook at home because "hundreds of flies" were landing on food.
The Environment Agency has ordered Shows Waste Management to get the problem under control.
The firm is treating waste on site with insecticide.
Residents in the area said the flies were "disgusting".
Several shops in the neighbourhood have also complained about the flies and several closed on Sunday afternoon.
Cobden Street resident Amanda Cairns said there has been an influx of flies over the last two to three weeks.
"We have to keep cleaning the worktops down because they land on everything," she said.
An Environment Agency official said Shows Waste Management, which has not commented on the situation, was given an enforcement notice on 11 March to move out the waste that was causing the problems.
On 17 May the firm was given a suspension order and told that no further waste would be accepted on site.
A spokesman for recycling firm Go 4 Greener, which also uses the site, said: "The waste has started to leave the premises today."
The Environment Agency said: "We are aware that there is a large amount of waste in the shed that will take a considerable length of time to remove.
"We will be working closely with all parties to monitor progress."
Another resident Daniel Lucas said: "They are all over my bed when I am trying to sleep."
Another local resident said: "I am on permanent fly swatting duty all day."
An action plan to remove waste from the site will be ready by Tuesday.