Two men named after Snake Pass death crash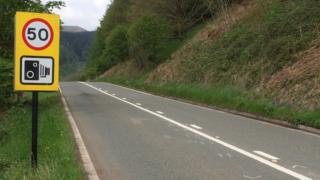 Two men who died in a three-car crash in the Peak District have been named by police.
Ehtisham Hanif, 29, from Sheffield, and Joshua Rosenberg, 18, of Winsford, were killed in a three-vehicle accident on the A57 Snake Pass on Sunday evening.
Five people were taken to hospital after the first crash and two other vehicles collided in the aftermath.
Police said the BMW Mr Hanif was in had been driving "erratically" before the crash happened.
Three of the BMW passengers were injured, two of them seriously.
Mr Rosenberg was driving a white Honda when he was killed. His passenger was seriously injured.
The man driving the third car, a silver Honda Civic, was also seriously injured and remains in hospital.
Nobody was injured in the second collision, which involved a Vauxhall Corsa and a Volkswagen Polo.
The road reopened at 07:00 on Monday after emergency services had cleared the debris.