Woman, 87, gets apology after being threatened over fines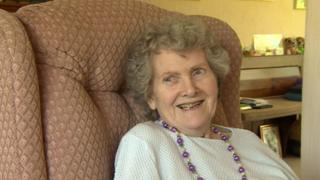 An 87-year-old widow threatened by bailiffs for driving offences linked to a car she had sold has received an apology.
Joan Johnson received the first of about 12 parking and speeding fines, totalling more than £1,000, in 2014.
A letter from Leicester Magistrates' Court even warned money would be taken from her pension to pay the fines.
Now the court has contacted Ms Johnson, from Derby, to confirm all enforcement action has been stopped.
She was told the mix-up was down to "an administrative error".
"It's been a nightmare," she said. "I couldn't put it out of my mind. It's difficult to relax and forget about it. I'm jolly glad it's over - hopefully."
Court apology
Ms Johnson sold her Ford Focus to a garage for £550 in October 2014 and has the bill of sale as proof.
She also has a letter from the DVLA confirming she is no longer the vehicle's registered keeper.
Ms Johnson subsequently received fines for speeding and penalties for parking in disabled bays, loading bays and on double yellow lines in Leicester, about 50 miles from her home in Mickleover.
A debt collection agency also wrote threatening bailiff action.
A HM Courts & Tribunals Service spokesman said: "We can confirm all enforcement action in this case has been cancelled.
"The court has spoken to Ms Johnson to confirm that has happened and to apologise."