Woman, 87, threatened with bailiffs over speeding fines linked to car she sold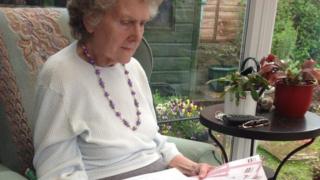 An 87-year-old widow has been threatened with bailiffs over driving offences relating to a car she had sold.
Joan Johnson, from Derby, received the first of about 12 parking and speeding fines, totalling over £1,000, in 2014.
A letter from Leicester Magistrates' Court even warned money would be taken from her pension to pay the fines.
Leicestershire Police said it was a matter for the DVLA, which said it was investigating.
Fighting back tears, Ms Johnson told the BBC: "I can't relax. I can't stop thinking about it.
"Life isn't easy so I'm fed up now. I'm at the end of my tether."
She sold the Ford Focus to a garage for £550 in October 2014 and has the bill of sale as proof.
She also has a letter from the DVLA confirming she is no longer the vehicle's registered keeper.
Ms Johnson said the first fine she received was for speeding in the car on the way home from the garage.
Since then, she has received more speeding fines and about seven penalties for parking in disabled bays, loading bays and on double yellow lines, in Leicester, about 50 miles from her home in Mickleover.
Ms Johnson's neighbour, Alan Smith, who has been giving her advice, said: "We thought that was the end of the matter when another letter arrived confirming the fine and saying the money would be taken directly from her pension."
A debt collection agency has also written threatening bailiff action.
"That's when it began to get serious, It was blatantly obvious that this was all nonsense but nobody seemed to be taking any notice of what she was saying," Mr Smith added.
"What if the driver of this car runs someone over or is involved in a robbery?"
The DVLA confirmed it was investigating but said it did not receive confirmation at the time that the vehicle had changed hands.