'Turn to God' grandmother stabbed in head tells robber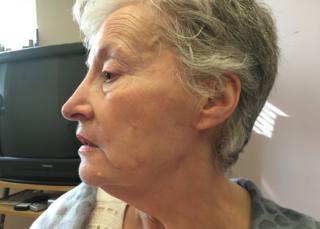 A grandmother stabbed in the head with a steak knife 13 times is prepared to forgive her attacker, but only if he turns to God.
Angela Burks, 68, thought she might die at the hands of Lee Greenall and attributes her survival to "a miracle".
He attacked her during a robbery in Alfreton, Derbyshire, on 5 February.
He was arrested on suspicion of attempted murder, but pleaded guilty to wounding with intent, robbery and possessing an offensive weapon.
The 39-year-old was given a 10-year prison sentence with an extended sentence of four years.
"Personally I would like him to come to God of course and I would like him to come to full repentance," said Mrs Burks.
"It's got to be true repentance though. It's not going to be like an apology - 'I'm sorry' - because anybody can say they're sorry.
"He would then have to turn his life round to God and he would have to prove it to me that he had."
Greenall would need to prove this by attending churches regularly and going to fellowship groups at churches regularly, she said.
"So if he did that, yes, I would forgive him," she said.
Greenall attacked Mrs Burks when she refused to give him her handbag.
She eventually told him to take it, but he continued attacking her.
She felt him punching her, but incredibly did not feel the stabs despite them being so strong that the knife blade bent.
"I just seemed to accept everything that I had to go through and I'm positive this was part of the miracle," she said.
"I wasn't aware he was stabbing me, but to be stabbed 13 times and not to feel it is just incredible that I'm alive."