Convicted rapist Barry Hall 'fought Islamic State' in Iraq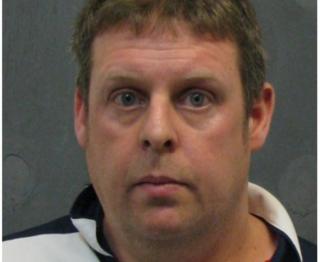 A convicted rapist who was sentenced after fleeing the country is reported to have been fighting so-called Islamic State (IS) in Iraq.
Barry Hall, 41, formerly of Chesterfield, was arrested on Thursday when he arrived at Manchester Airport.
He fled the UK before being sentenced in July to seven years for rape and assault, which took place in August 2007.
While on the run Hall claimed he had been fighting with Kurdish forces.
He was sentenced to an additional five months for failing to surrender to custody after running away.
It was widely reported in March that Hall was among a group of Britons known as the "Daesh Hunting Club"- Daesh is an alternative name for the IS group.
A number of pictures shared on social media showed him posing in combat gear with automatic weapons.
He has since deleted his Twitter and Facebook accounts but a number of tweets make reference to fighting in Kurdistan, in northern Iraq.
Det Con Matthew Greatorex of Derbyshire Police, who oversaw Hall's return, said: "Barry Hall evaded the sentence that was given to him for the crimes he committed.
"He will now be brought to justice and serve the appropriate sentence.
"A large amount of work has been put into tracking down Hall and ensuring that he returned to the country.
"I am pleased that this work has paid off and Hall is now behind bars paying the price for the crimes he committed."
Hall is also thought to be behind a Go Fund Me account, since deleted, which raised more than £1,300 to help pay for western mercenaries in Iraq.
He claims to have served with the Royal Artillery.
Hall was sentenced in his absence last year to a total of seven years for two counts of rape and one each of assault, actual bodily harm, common assault and assault by beating.