Stanage Pole replaced to mark Peak District anniversary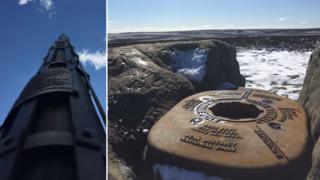 A mysterious wooden pole that has become an "important cultural landmark" has been replaced after the previous one was removed due to safety fears.
Nobody knows when a pole was first placed near Stanage Edge in the Peak District, who did it or why.
The most recent "Stanage Pole" had stood there since 1915, but was removed in 2015 in case it toppled over.
It marks the Derbyshire and Yorkshire boundary, and possibly where former kingdoms of Mercia and Northumbria met.
Stella McGuire, from the Peak District National Park Authority, said: "No-one knows when the first pole was put up.
"The boulders surrounding the pole are covered in a fantastic array of graffiti of various dates. Some of them have large, deeply-inscribed letters and numbers, whose style indicates an early date."
These dates and letters include "TM 1631", "HH 1697" and "FN 1740".
Inscriptions of earlier dates - 1550 and 1581 - were recorded in about 1875, but have not been seen in modern times.
Ms McGuire said the original purpose of the pole is also a mystery.
"The pole's ridgetop location makes it a prominent landmark when viewed from the north and east, and travellers on a number of tracks and holloways would have used it as a guide and reference point," she said.
"However, it is set back from Stanage Edge itself, and so cannot be seen as you approach from the Hathersage direction up Long Causeway or other old tracks which lead up towards the Edge.
"Does this mean that the pole's main role was as a boundary marker, rather than a guidepost?"
A Very Important Pole (VIP)
A wooden pole has stood on Hallam Moors, close to Stanage Edge, for hundreds of years
It is currently called Stanage Pole, but in the past has been known as Stanedge Pole or Thurstone Pole
It marks the border of Derbyshire and Yorkshire, and some believe it could even mark the frontier between the former kingdoms of Mercia and Northumbria
It is on an ancient packhorse route known as the Long Causeway and would have been a useful landmark to travellers over the years
The earliest map depiction of a pole in this location is dated 1723
Minutes from a council meeting show the pole was removed "by persons unknown" in 1915 and a steelworks offered to replace it with a steel pole - but the council and the Hunter Archaeological Society rejected this
The new pole was erected in a ceremony on Sunday to mark the 65th anniversary of the creation of the Peak District National Park - the first area to be designated as a national park.
Ed Douglas, a Peak District resident and writer for Calm & Fearless, said: "It's an important cultural landmark and I'm pleased to see it back.
"It's a very old boundary for a start, so there's the historical perspective but it's also a reminder of a time before good roads.
"Traders and travellers came this way and in bad winter weather the pole was a welcome guidepost for those trying to reach Sheffield."