Derbyshire stabbing: Boy, 17, and man injured in 'street fight'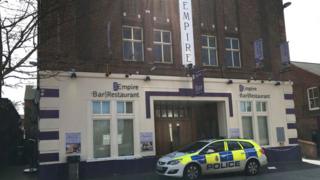 A 17-year-old boy and a man have been stabbed in a street fight in Derbyshire, police have said.
Officers found the pair "seriously injured" in West Street, Swadlincote, at 04:00 BST on Sunday.
The teenager, from Leicester, who is in intensive care, got into an argument with another man and was stabbed in the chest, Derbyshire Police said.
Officers believe the 20-year-old man, also from Leicester, intervened and was hurt. He is in a stable condition.
The area, near the Empire Bar and Restaurant, was cordoned off for several hours while police carried out forensic work, including opening drains.
A man who works at a nearby taxi firm said: "There was a massive party at the Empire, people coming from Leicester, Nottingham and even Peterborough.
"People were coming in shaking, saying 'just give me a taxi really quick'."
Police are appealing for information.